I must admit: I'm a bit obsessed with grey. It's one of those colors (or shades) that looks great on anyone. Plus, it's such a cool neutral. Anyway, I'm on a mission to find a new sofa for our living room. Although, I'm partial to grey I won't discriminate if the sofa is right. Right now, we have a leather sofa in Ivory and a matching love seat. They were given to us by my mom and stepdad when we first got our place; we had nowhere to sit. LOL! We appreciate their generosity. I actually plan on re-stuffing the back pillows until we can get a new set. But in the meantime, a girl can dream.
Here are some sofas I found for under $700:
IKEA – Here is one of the exceptions to my grey rule. I think this is a pretty funky sofa that would look great as the focus of the living room. It's a softer shade of red, making it easier on the eyes.
Living Spaces – This is another nice, neutral sofa. I'd love to have something like this in our living room but I'm afraid with my stepkids and the baby, it won't be beige for very long. The stud detail on the arms are beautiful. This sofa would definitely help keep a living room light.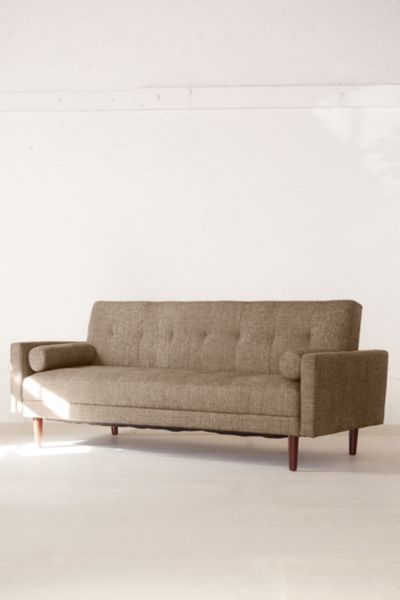 Urban Outfitters – I love the exposed feet on this sofa. I also like that it can be made into a sleeper. We have guests, regularly, so this would be a great option for adding sleeping space without an inflatable mattress on the living room floor.